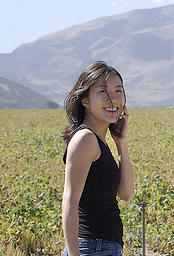 Diana Kuan is a freelance writer and cooking instructor whose work has been featured in The Boston Globe, Food & Wine, and stack of other tasty reads. Mostly Beijing-based (with occasional US-homesick pangs) her blog Appetite for China is indeed about regional Chinese foods, but also features what Diana calls "the offspring" – Chinese food outside the mainland, like "Portuguese-accented Macanese, Peruvian chifa, Indian-Chinese, and a myriad of other hyphenated Chinese cuisines." With Diana's French culinary training and a childhood around her family's suburban Boston Polynesian-style take-out and Cantonese bakery, is it any surprise that she fantasizes about wok-fried chicken and plantains?

How often do you think about eating?
All the time. Except in bed, in the shower, and after I have so completely stuffed myself at a meal that I vow to never eat again (which, of course, does not happen.) I spend most of my waking hours researching food, teaching cooking classes in Beijing, and experimenting in the kitchen.
Coffee craving?
Three cravings, actually. I love Vietnamese coffee (cafe sua da) for the richness and the sweetened condensed milk. Turkish coffee is also a wonderfully thick and sweet concoction, but impossible to find in Beijing where I live.  And a perfectly made cup of cappuccino…my younger days as a barista made me very picky about the coffee/foam/milk portions in a good cappuccino.
Favorite hometown food?
I grew up mainly in Boston and always crave a good bowl of New England clam "chowdah" during the winter, wherever I happen to be. But my last home in the US was New York, and I could easily write pages about all the foods I crave from the city.
Ever been served breakfast in bed?
I think so, but I'm very blurry on the dates and foods served to me. I must have been sick at the time.
Your absolutely reliable, go-to dish for entertaining is:
If I want easy and reliable, I go for roast chicken. A main dish of chicken legs rubbed with olive oil, salt, pepper, and a squeeze of lemon juice never fail. For appetizers, cumin or five-spice chicken wings tend to be crowd-pleasers.
Food that makes you gag?
Fennel and raw celery.
Worst kitchen disaster:
I recently needed to re-season a wok, so I swirled some oil around the wok, heated it, and walked away for a moment. I must have had the heat much higher than I thought, because the kitchen soon filled up with noxious fumes. The smoke traveled to every room in the house and I had to open all the doors and windows and turn on fans and the air conditioners to disperse it. Needless to say, the wok and the spatula I was using were so gunked up with tar I had to toss them.
Three things in your refrigerator right now:
Leftover pumpkin soup, rum, hoisin sauce.
Your idea of a romantic meal is:
A picnic on the beach or a park. (So clichéd, I know, but most of my favorite food memories involve picnics.) Charcuterie, a melty Camembert, warm baguette, wine in plastic cups. If the setting is Central Park, perhaps a beer from one of those guys who wheel around bottles hidden under cans of soda.
Secret snack of shame?
I eat way more gummy bears than a woman my age should. I also love instant ramen in any shape or form.
Most ambitious thing you've ever done in the kitchen:
One Thanksgiving my partner and I spent 12 hours making an enormous turkey, 3 sides, and pumpkin pie. Then we sat down and realized we were the only people who would be eating all that food.
Best restaurant if you're not paying:
Anywhere high-end in Hong Kong
If you were a cocktail, what would you be?
Hibiscus mojito. It's classic, with a twist.
Extra Credit: Where is the world's best pizza?
I have to say Grimaldi's in Brooklyn. I used to go there at least once a month when I lived in New York and the entire experience, from the food to the claustrophobic seating to the view of the Brooklyn Bridge when you leave the restaurant, represent everything I love and miss about the city.