This week welcomes Jane – aka Modernemama – from Beach House, a Long Island-based blog featuring design, garden, art and yes – food.  Unrepentant food. Normally about now I'd continue my little intro – I'm the hostess, you know – but the bio Jane sent was a tale in itself, so lively and mysterious that I believe she should do the pleasantries. Jane?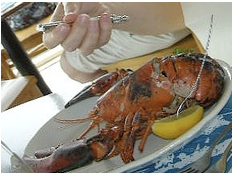 "I grew up in a strange land where home-cooked food was plain and restaurant food was overcooked and grey. I baked and made jams and jellies and with the aid of a 1970s set of Le Cordon Bleu cookbooks and some vintage Elizabeth David, Jane Grigson and Delia Smith I expanded my culinary horizons. Eventually I relocated to a continental European country where olive oil wasn't used to cure ear ache, where the wines are carefully chosen to complement each dish and the Burgundian tradition of joie de vivre rules; if you order coffee in a cafe in Belgium it comes with a little treat, a chocolate praline or speculoos biscuit – oh, the happiness. I spent the next few years eating my way through that country with side trips to France and Spain, Germany, Scandinavia and Italy."
"Then I moved to Long Island and learnt about cocktails.  And now it's all about the food. When I'm planning travel I don't look up flights and hotels until I've researched restaurants in that city. Do I remember the Grand Canyon? Sure, and I remember I ate my first ever Huevos Rancheros in Flagstaff before we went.  Things I have carefully kept hidden you may not know: I have career commitment issues: teaching, policy work, campaigning, translating and communications – I've done them all and a few other things besides. I won a prize for my Damson jam when I was younger. Oh, and I have two children."
How often do you think about eating?
Constantly, and I dream about it, too. About what I have eaten, where I've eaten it, where we are going to eat, about individual ingredients, recipes, how I can adapt recipes…it's a wonder I get anything else done

Coffee craving?
Can't start the day without coffee. Actually, I can't even function without a really strong cup brought to me in bed by The Guy. It's a sad day for me if I have to get up and make my own coffee!
Favorite hometown food?
Which hometown? In NY I guess it has to be pizza, but I like it with salad as a topping. Is that too bizarre? Chicken Caesar Salad or fresh Tomato and Garlic pizzas from Rosa's in Huntington. Black & Blue Seafood Chophouse has an All Natural Grass-Fed Argentinean Beef & Gorgonzola Fondue that is darn good.
From the old country, two things that are impossible to get: real, crumbly Farmhouse Cheshire Cheese we used to buy at the market when I was a child; it was so salty it should have come with a free pack of blood pressure medication, and tiny fresh brown shrimps sold in a poke. The river has silted up and the shrimping boats can't get up there any more. My father would put in a request for some Bara Brith spread with real salted Welsh butter (pass the blood pressure pills again).
From my adopted country: moules frites. Mussels in white wine with a side order of double-fried French fries served with mayonnaise, not ketchup. That's my favorite have-to-have it, get-it-everywhere Belgian dish.
Ever been served breakfast in bed?
I'm not really a crumbs in the sheets sort of gal – just coffee, please.
Your absolutely reliable, go-to dish for entertaining is:
Baked sea bass. It's totally stress-free. The secret is to get a large filet of fish and cook it whole. Put 2-3 lb of salted and peppered sea bass in a baking dish, cover with half a bottle of white wine, add chopped garlic and shallots, some sliced lemon and fresh herbs and bake for 25 minutes. Then portion it and serve with vegetables and crusty baguette. You can go crazy and dress it up with Hollandaise or shrimp sauce but really it's fine just as it comes. And you can't overcook sea bass so if the cocktail hour runs over, it doesn't matter.
Food that makes you gag?
Bananas. I can't stand the smell or the texture. And flavored coffee. Hazelnut, vanilla gingerbread latte? Yuk. Shudder.
Worst kitchen disaster:
There are so many to choose from. Let's see…. burning the spices for Rogan Josh I was cooking on Thanksgiving when there was no hope of getting more before the guests arrived. Lentils for Thanksgiving dinner, anyone?  Celery soup I made with milk and left to cool in a 40-degree celsius kitchen. Food poisoning, anyone? Often it's just forgetting about something simmering on the stove. I lost a Le Creuset casserole to one such disaster and I'd always thought they were indestructible.
Three things in your refrigerator right now:
Adirondack Seltzer water, five kinds of mustard, Fino sherry. Or is that seven?
Your idea of a romantic meal is:
Cocktails, candlelight, cute guy.
Secret snack of shame?
As a child I used to eat Bird's Custard Powder out of the tin mixed with a little cold milk. Cornstarch, sugar and food colouring, the perfect after-school snack. Now that my tastes are so much more sophisticated it's a pinch of shredded Cheddar and Monterey Jack cheese, straight out of the bag.
Most ambitious thing you've ever done in the kitchen:
Apart from remodeling it you mean? There was a Medieval Banquet thing years ago, but it was joint effort.
Best restaurant if you're not paying:
I'd love to go to El Bulli and Mugaritz in Spain but in New York it would have to be The Modern.
If you were a cocktail, what would you be?
I'm a classic martini. Ice cold, extra dry, gin with three olives. Three, not two or five. OK?
Extra Credit:  Where is the world's best pizza?
I like my pizza base crispy so I'd have to say Rome, there are some great hole in the wall places in the eternal city.