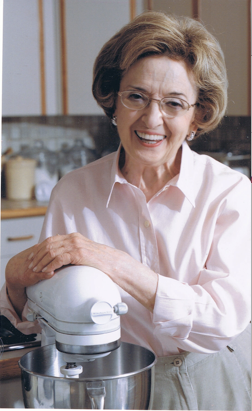 Carole Walter is a master baker who's written six major cookbooks and taught 25,000 students over 30 dedicated years. She's known as a "seasoned, creative and accomplished baking and food professional specializing in American and European pies, cakes, cookies, pastries, desserts, and breads."  So…with all that international acclaim, media love and a James Beard award-winning book, what's she doing hanging around Simmer?
Simple – I'm a fan. Carole's award-winning 1992 book Great Cakes was, and still is, my great friend in the kitchen – helpful in culinary school, in our first place, at every Mother's Day brunch.  All her creative-but-practical recipes, full of usefully rich advice, are as vital to me as ever – albeit more folded, spattered and crumbed, as all good recipes should be.  Carole graciously agreed to play, and impressed me yet again – for such a prolific author, she provided the most efficient answers seen here yet.
(I knew she was coming, so I baked a cake! Specifically, Carole's Gingery Pumpkin Cake, from her excellent recipe in Great Cakes. See the recipe – and result – below.)

————
How often do you think about eating?
All the time.
Coffee craving?
In the morning.
Favorite hometown food?
Memphis BBQ from Paynes.
Ever been served breakfast in bed?
Only if I was sick.
Your absolutely reliable, go-to dish for entertaining is:
Filet of Beef
Food that makes you gag?

Tofu
Worst kitchen disaster:
A recipe for Gum Drop cookies that was passed to me by a casual acquaintance that I wanted to shoot after making them.
Three things in your refrigerator right now:
Salad greens, English Cheddar, hummus.
Your idea of a romantic meal is:
My husband and I eat totally differently – and I am not having an affair at present!
Secret snack of shame?
Brownies
Most ambitious thing you've ever done in the kitchen:
Whole Sea Bass en Croute.
Best restaurant if you're not paying:
Extra Credit:  Where is the world's best pizza?
I don't know, but the world's best pastries are in Vienna.
ed. note: now, you know I love me some pizza, but I might agree with Carole about Vienna – especially on the day I ate dessert at Demel.


Carole Walter's Gingery Pumpkin Cake
from Great Cakes, 1992
3 cups sifted unbleached all-purpose flour
2 teaspoons baking powder
2 teaspoons baking soda
1 teaspoon salt
2 teaspoons ground cinnamon
1 teaspoon ground nutmeg
5 large eggs
1 cup granulated sugar
1 cup light brown sugar, lightly packed
One 1-lb. can (2 cups) pureed pumpkin (do not use pumpkin pie mix)
1 1/2 cups vegetable oil
1 1/2 cups walnuts, chopped medium, 2 tablespoons reserved for top
1 cup mixed light and dark raisins
2 tablespoons minced crystallized ginger
1/2 cup quartered red glaceed cherries, optional
1. Position rack in the lower third of the oven and preheat to 350 F. Butter a 10-inch angel food cake pan. (You can also bake this in two large loaf pans or a deep 1/2 sheet jelly roll pan, as I did, lined with parchment paper)
2. Sift together the flour, baking powder, baking soda, salt and spices. Set aside.
3. Put the eggs in the large bowl of an electric mixer. Using the beaters or whip attachment, beat on medium-high speed for 2 minutes.
4. Add the granulated sugar, 1 tablespoon at a time, taking 3-4 minutes to blend it in well. Then add the light brown sugar over an additional 3 to 4 minutes, beating until mixture is light in color and thickened. Add the pumpkin puree and beat for 1 minute. Slowly pour in the oil in a steady stream, and beat one minute longer.
5. Reduce mixer speed to low. Blend in the dry ingredients all at once, mixing just until incorporated. Remove the bowl from the mixer. Using a wide rubber spatula, fold in all but 2 tablespoons of the nuts, then the raisins, ginger, and optional cherries.
6. Pour the batter into the prepared pan. Sprinkle top with the reserved 2 tablespoons of nuts. Bake in the preheated oven for 65-70 minutes, until cake begins to leave sides of pan and a toothpick inserted into the center of the cake comes out dry.
7. Remove from the oven and set the pan on a cake rack to cool completely. To remove the cake, run a thin, sharp knife around the sides and center tube. Lift up center tube and run a thin, sharp knife under the cake. Invert the cake onto the rack. Turn top side up and cool completely.
Serves 12 – 16.
Storage: store at room temperature, covered, for up to 5 days. For longer storage, refrigerate up to 10 days.
Note: I baked this cake in a half-sheet pan, which allowed me to cut small squares and top each with cream cheese frosting (find a quick basic version here) and one perfect pecan.
Click me, I'm a printable recipe!