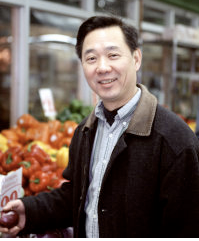 He calls the kitchen his "playpen," but KianLam Kho is serious about cooking.  Chinese homestyle cooking, specifically, which he blogs about at Red Cook – "sharing the joy and frustration of cooking Chinese food at home." Singapore native Kian, a software engineer, would pretty much always rather be in his New York kitchen, whipping up stir-fries and mooncakes and red-cooked pork, the food of my dreams – oh, I'm sorry, was this about Kian? I can't help it – his truly awe-inspiring Mid-Autumn Festival Banquet was the post that drew me to Red Cook in the first place; take a look at the menu – the multi-course menu – and see. Better yet, pull up a chair and hear it from the cook himself.  I'm off to order some food.
How often do you think about eating?
Eating? I only think about eating when my stomach growls. But I think about food 24/7. I am always plotting my next dinner party or cruising the Internet for new recipes and food research. All food all the time.
Coffee craving?
Well, I'm Chinese. So my craving is for tea. Give me a 12-year old Pu-er tea and I'm completely seduced.
Favorite hometown food?
Mustard green rice, of course! Specialty from our family province of Fujian. Rice made with Chinese mustard green, dried oyster, shiitake mushroom and pork belly.
Ever been served breakfast in bed?
I have. My first and only breakfast in bed was a bowl of hot congee. I spilled it and almost got my entire left arm burned.
Your absolutely reliable, go-to dish for entertaining is:
Chocolate souffle indeed! When I'm left without enough time to make dessert. I always make a chocolate souffle because it is the simplest last minute dish that's most impressive. Now my friends are in on the secret. Whenever I serve souffle at dinner parties they wonder if I didn't have enough time to make a better dessert.
Food that makes you gag?
Bee larvae! I was served crispy fried bee larvae in a brown garlic sauce in Hangzhou. This dish gives new meaning to crunchy on the outside and chewy on the inside.
Worst kitchen disaster:
I was making Beef Stroganoff and trying to be creative by substituting sour cream with plain yogurt. But I accidentally bought a vanilla-flavored yogurt, which had a simple plain label. What resulted was so vile that even my dog wouldn't eat it.
Three things in your refrigerator right now:
Bitter melon, strawberries and heavy cream. Perhaps I can make bitter melon strawberry ice cream. Not!
Your idea of a romantic meal is:
Candle-lit picnic on the Great Lawn in Central Park of New York City. Candelabra, fine bone china, antique silverware, linen napkin, caviar, cold tea-smoked duck breast with orange-almond mayonnaise, frisee, pear and blue cheese salad, lychee clafouti and a bottle of Veuve Cliquot with two crystal champagne glasses.
Secret snack of shame?
Spam. Maybe growing up in Asia and eating lots of Spam with rice in my lunch box as a child has made me crave for it. I buy six-packs of them from Costco.
Most ambitious thing you've ever done in the kitchen:
Until I made my first mooncake three weeks ago the most ambitious thing I made in the kitchen was tea smoked duck. But now I can say it is mooncake. Making the filling and the wrapper from scratch is much harder than it looks.
Best restaurant if you're not paying:
Jean-Georges in Shanghai. I truly think he created a really great restaurant there. The site is right on the Bund with a panoramic river view. The food is absolutely divine, with very interesting local Chinese influences.
If you were a cocktail, what would you be, and why?
When it comes to cocktails I am a traditionalist. I'd want to be a martini. The original. Gin, dry vermouth and three olives. Stirred, not shaken.
Extra Credit:  Where is the world's best pizza?
I want to say DiFara's Pizza in Brooklyn. The pizza there is truly magnificent. But it is so dirty that New York City Department of Health shuttered it twice in the last few years. So I'm not sure I can really say I'd recommend it as the best.