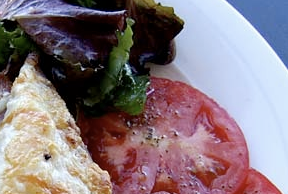 There are food blogs, and then there are blogs full of food.  Luckily Foodhoe's Foraging falls into the latter, a category of cheerful excess.  Sandy reports from the Bay Area, displaying a restaurant fantasyland in every full-color post.  Hungry for Thai, Korean, Southwest, Vietnamese?  Visit Sandy – she does more than blog about food, she covers food and she takes you along, more dining companion than critic.  Her admission that "…deciding what's for lunch, taking pictures of lunch, writing about lunch," sealed the deal with me.  Now if I just could stop staring at that dry-fried chicken.

How often do you think about eating?
I admit it – every waking moment!
Coffee craving?
I am a plain old coffee girl. My craving is for a freshly brewed cup of coffee with a good slosh of cream. The aroma is a big part of it. I just love the smell of freshly ground beans.
Favorite hometown food?
I grew up in Palo Alto back in an era where an espresso was about as exotic a coffee drink as could be imagined, and women were burning their bras. Well, I was a kid and didn't have a bra, but wished I could at the time… I think that is why the food I grew up eating was so grim – women were trying to get out of kitchen to join the workforce and began to rely on processed foods. My family didn't really dine out much except for Shakey's Pizza or Chinese food for special occasions. We always went to Andy's Chinese on Castro Street in Mountain View. I don't think that any of those restaurants are there anymore.
Since then I've moved around but always in the Bay Area, so I have favorite foods from all over the place: egg tarts and cocktail buns from Golden Gate Bakery in SF, or the dry fried chicken from San Tung in the City, zampano bread from Arizmendi at Grand Lake in Oakland, Huevos Divorciados at La Pinata in San Leandro, fresh tofu from San Jose Tofu…
Ever been served breakfast in bed?
I have and it's too full of crumby things. I'd rather be served breakfast on the patio. If I could figure out the logistics, I would love to be served dim sum for breakfast in bed.
Your absolutely reliable, go-to dish for entertaining is:
Make your own sushi. I go to the Japanese market and pick up a variety of different sushi grade fish and roe and it's so easy to serve with sliced vegetables like cucumber, green onion, carrot, daikon, avocado and a bowl of seasoned sushi rice. You can get these wonderful packages of toasted seaweed flavored with sesame oil and salt that are the perfect size to make small hand rolls. Everyone gets to assemble their own perfect bites.
Food that makes you gag?
Canned peas.
Worst kitchen disaster:
I've had so many it's hard to say which is the worst…let's go with a humorous one, which was one of the first times I ever had my now-husband over for dinner. I had a chicken all trussed with herbs and butter tucked under the skin, very Martha Stewart, which somehow slipped out of my hands in a dramatic fashion, almost as if the pan and everything leaped out of my hands into the air – flipping dramatically in slow motion and landing with a loud liquid splat. Needless to say, I made an impression on that man.
Three things in your refrigerator right now:
Fresh butter from the farmer's market, bunches of fruits, and vegetables.
Your idea of a romantic meal is:
A sunset picnic with freshly shucked oysters out at the Hog Island Oyster Farm in Tomales Bay, where everything is bathed in the most beautiful golden later afternoon light. Especially this time of year, everything looks good in this setting.
Secret snack of shame?
I like fat with my fat and when I'm alone in the house, I'll park at the table with a jar of Adam's crunchy peanut butter and scoop piles of it onto any kind of chocolate.
Most ambitious thing you've ever done in the kitchen:
I am sure that it was related to the biggest disaster… I no longer even attempt ambitious but will gladly help out on someone else's ambitious projects. Let the professionals be ambitious and my friends, who I hope will continue to invite me over for food.
Best restaurant if you're not paying:
Manresa in Los Gatos or French Laundry in Yountville. I've never been, and really want to but haven't been able to justify that $200ish price for a tasting menu.
If you were a cocktail, what would you be, and why?
A gin and tonic: effervescent, tart and slightly bitter.
Extra Credit: Where is the world's best pizza?
I have not been around much in the world, so I'm going to translate that to mean my favorite pizza. Right now, that would be the wood-fired pizza at Pizzaiolo in Oakland, CA.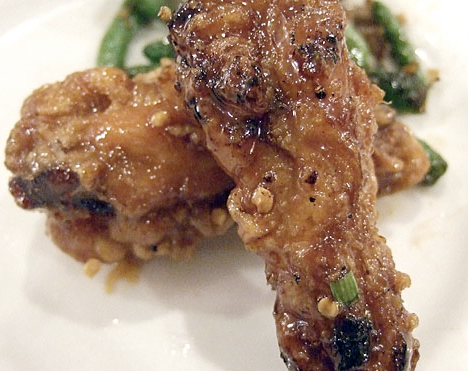 San Tung's Dry-Fried Chicken @ Foodhoe's Foraging